Great for the bath, beach, or pool
Fun, unique and imaginative, Shark Tank Bathtub Ball toy for toddlers by BeginAgain includes a spherical shark tank, master diver, octopus, and shark bath toy – what could be better for a bath and pool playtime?! BeginAgain Shark Tank Bathtub Ball toy characters blow bubbles when submerged underwater and lend to hours of storytelling and imagination.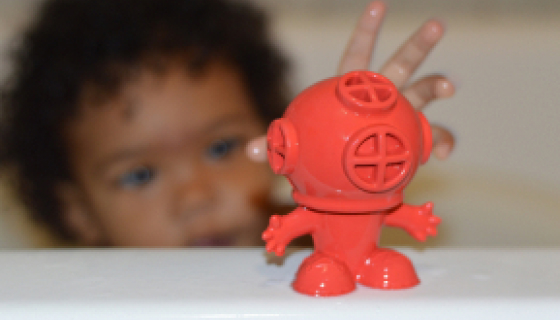 Transform bath time into an underwater adventure
Experience a diving adventure in your bathtub
Make bath time more fun
These entertaining toys help to encourage active play and imagination, helping to ensure that your toddler has a swimmingly good time!
Bubbling bathtub toys
The BeginAgain Shark Tank Bathtub Ball is an endless delight! These toys blow bubbles when fully submerged underwater and add to bathtime fun greatly!
Prevents mold growth
It is a safe and fun bath toy made of all-natural rubber with large openings that help toys dry thoroughly and prevent mold build-up.
Durable & eco-friendly
This durable, eco-friendly playset is made from plant-based natural rubber and is ideal for play in the bathtub, beach, or pool.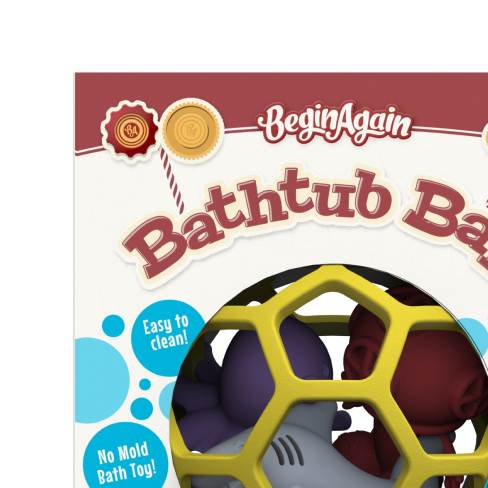 Helps in developing storytelling skills
Designed for young explorers, this playset includes a hero diver in an old-time diving helmet, two sharks, an octopus, and a shark cage that doubles as a carrying case.
Easy to use and clean
It is not only charming, but also very well constructed. Can stand up to many bath time voyages and trips to the pool. Wash it in the top rack of your dishwasher for easy cleanup and sanitizing.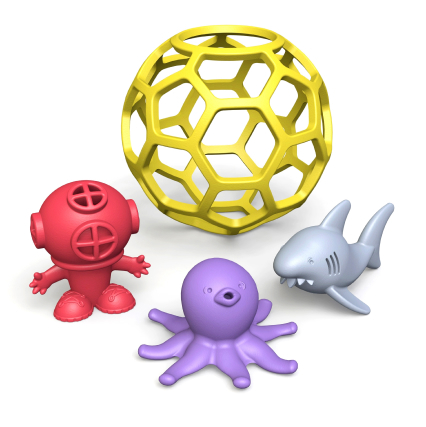 Bath time companion for your little one
This playset takes the thrill of deep-sea diving and brings it to the bathtub, beach, or pool for your little one to enjoy. The yellow shark tank keeps your hero safe from circling sharks while in the water, and when playtime is over, also serves as a carrying case.
About BeginAgain
BeginAgain is an eco-conscious toy company based out of Fort Collins, CO, who specializes in toys for children 6 months to 6 years old. We design and market toys that are fun and develop the child across all stages of toddler and preschool life, both mentally and physically. Our products are made from 100% sustainable materials, so they are child safe and most importantly mom trusted! Our brand is seeing tremendous growth as a result of:
1. Our sustainability message is resonating with consumers & retailers.
2. We use rubberwood, water based stains & natural rubber for entire product line.
3. Parents are looking for toys that reduce screen time for their children.
4. The revolt against plastic is very real & parents are looking brands not using plastic.
5. BeginAgain has grown as a very authentic voice that parents, grandparents & educators really love.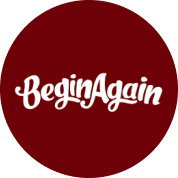 Designed In
Fort Collins, Colorado